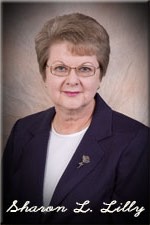 Salvation Experience:
A great heritage to have is the memory of being raised in church. It is one that I cherish. I remember being in the beginner department at the Eastside Baptist Church of Evansville, Indiana (pastored at one time by Ford Porter). It was there when I was five or six that I realized that I needed to be saved. I remember the fear of dying before I was saved. Being a very timid child, I didn't communicate these thoughts. During a revival meeting held at the church by an evangelist magician, it became very clear to me that I shouldn't put off salvation any longer; but being so timid, I wouldn't go forward. The evangelist then asked everyone to stand with the teacher of their Sunday School class. My mother was my teacher and I was standing next to her. He then asked that anyone who wanted to be saved leave with their teacher. I told Mom that I wanted to be saved. She led me down to the Sunday School classroom and I prayed and asked God to save me from my sins.
Other memories that I have from my childhood are of hearing missionaries speak and present the mission field. We also had many missionaries in our home. My parents loved missionaries and we prayed for them. I thought at an early age that I would be a missionary some day. There was a single missionary lady that had an impact on these thoughts, Margery Shelly. She was a missionary in Africa, and I thought that one day I would be also.
I wasn't baptized for several years after being saved. There was also much conviction of this. I hated to attend baptismal services, knowing that I needed to be baptized. One time a friend of mine was going to be baptized and she didn't have a white dress. She asked if she could borrow mine. That was a very hard time for me, because I knew that I should be baptized too. I was later baptized when a teenager in the Calvary Baptist Church in the same city.
Something else I remember is memorizing Bible verses. In my Sunday School classes we were challenged to memorize the Scriptures. These verses have helped me in every part of my life. I remember once that I memorized the passage in Luke 2 of the birth of the baby Jesus. I was afraid to say it in the Christmas program, but my Dad promised me a prize if I did it. I won the prize!
I am thankful that I had loving, spiritual parents who made rules and enforced them. Because of this and God's Word, I was able to maintain a good testimony. As a teenager, many times I felt left out, because I was not allowed to do many things . Thanks to my parents and a good church, my life was led in God's direction.
God's still small voice still was impressing me to be a missionary, but I had not told anyone. Our church, Evansville Baptist Temple, took a group of us to youth camp at Lake Winona, Indiana. It was there after listening to a message on missions that I passed forward and publicly announced that God wanted me to be a missionary.
After being graduated from North High School, I enrolled in the Missions Course at Baptist Bible College of Springfield, Missouri. I didn't talk much about going to the mission field, but I knew that if God really wanted me there, He would make a way.
I was graduated from BBC in May of 1964. While in my senior year, I worked as secretary at Seminole Baptist Temple. After being graduated, I was invited to work in the Missions Office of the Baptist Bible Fellowship International. So you can see that I was still under much missionary influence. Later I returned to be the church secretary in the same church and also taught in their Kindergarten.
During this time, I met a young pastoral student, Larry Lilly. We dated, fell in love and married in June of 1966. He was graduated in May of 1967. The Central Baptist Church of Lufkin, Texas, called us to work full-time in the church. During a mission conference in our time there, Larry surrendered to be a missionary. It was then that I told him that I had felt that I would be a missionary since I was a little girl. God had worked out the details. We then, through much prayer, decided that God wanted us to be missionaries to Mexico.
We were approved as missionaries in September of 1970. Since then, Mexico has been our home. After having worked in church planting in Morelia and Guadalajara, God called us to Cd. Mante, Tamaulipas, where we are training men and women who have been called to serve Him in full-time service and they are starting many churches in Mexico and in other parts of the world.