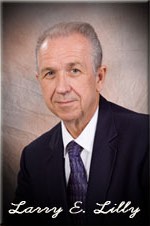 Salvation Experience:
I was born March 11, 1943 in Redwood, Virginia and born again at the age of 19 in Galeana, Alaska. Previous to being converted, I had made a false profession of faith in Christ and had been baptized in Thomas Road Baptist Church in Garland, Texas. Not really knowing Christ as personal Savior, I had no peace. While stationed in Galeana, Alaska in the Air Force I began to read the Bible, searching for assurance of salvation. I realized then that I was not truly saved and received Christ as Savior August 24, 1962. Upon returning to the Continental USA and to the Thomas Road Baptist Church, I was baptized in May, 1963
Call to the Ministry:
In August, 1963, while stationed at Dyess Air Force Base in Abilene, Texas, I joined the Trinity Baptist Church where Reverend Howard Ingram was pastor. Since conversion God had been dealing with me about full-time service, and in September, 1963, I surrendered to preach the Gospel. Within a week, I had preached my first sermon in the jail services that we held on a weekly basis in Abilene, Texas.
Baptist Bible College:
In September, 1964, I enrolled in the Pastors course at Baptist Bible College in Springfield, Missouri. During the three years of study at BBC, I was a member of Seminole Baptist Temple, Reverend Raymon Tracy, pastor. During this time I was active teaching Sunday School, first the Juniors, then the Intermediates. It was at Seminole Baptist Temple that I met my wife, the former Miss Sharon Brockett, who had graduated with a major in Missions in May, 1964. We were married June 18, 1966.
Missionary Internship:
After graduating with a Pastors major in May, 1967, I accepted the position as associate pastor with Reverend W. W. Luster, pastor of Central Baptist Church in Lufkin, Texas. We would be here for the next two years. During this time the old fires of missionary work began to burn again in my heart, and in November, 1968, I surrendered to be a missionary. It was then, for the first time, that my wife told me that she had surrendered to the mission field before going to Baptist Bible College.
México Bound:
In August, 1969, Sharon and I returned to Springfield, Missouri and Baptist Bible College, where I enrolled in the Concentrated Missions Course, and finished in May, 1970. During this time we were members of Seminole Baptist Temple where I taught the Young Marrieds Class and was ordained to the ministry. Also, it was at this time that God impressed upon our hearts the field of Mexico as the country in which He wanted us to serve Him. In September, 1970, my wife and I were sent out and comissioned by the Central Baptist Church of Lufkin, Texas, and were approved as Missionaries of the Baptist Bible Fellowship International to Mexico.
Querétaro and San Luis Potosí:
After fifteen months of deputation we arrived in Mexico January, 1972, and enrolled in the Querétaro Language School in Querétaro, Querétaro in the central part of Mexico. After three months in language school, while continuing the study of the language, I accepted the responsability of the Gethsemani Baptist Mission in the city of San Luis Potosí, 125 miles north of where we lived and studied. Every weekend during the next seven months we traveled the 250 mile round trip, working and visiting with our national pastor. Many souls were saved. Before moving to Morelia, Michoacán to start a new Church, the Mission had grown to an average attendance of 50, and God had enabled us to move the Mission to a better location..
Morelia, Michoacán:
After completing language school, in February, 1973 we moved to Morelia, Michoacán, 750 miles into the interior of Mexico, 200 miles West of Mexico City. During the next twelve years God blessed our labors. The Bible Baptist Church of Morelia was started April 15, 1973 with 8 in our first service and grew to an average attendance of 85 in Sunday School. Today the Church is organized and has their own national pastor, Church building and facilities. While laboring in Morelia, God permitted us to start eight more works in the surrounding villages and cities.
Guadalajara, Jalisco:
After we completed our second furlough, in January, 1984 we moved to Guadalajara, Jalisco, the second largest city in Mexico, with over 5,000,000 in population at that time. Our first year was spent overseeing the works of another of our missionaries in Guadalajara while he was on furlough. Also, during this time we started the Bible Baptist Mission of Guadalajara and labored in five village works with national pastor, Raymundo Chávez.
Ciudad Mante, Tamaulipas:
In June, 1988, after Bill Harvey, missionary of the Baptist Bible Fellowship had invited us, and after much prayer seeking the Lord's will, we moved to Ciudad Mante, Tamaulipas to begin working as Sub-Director in the Baptist Bible Institute. In 1999 I became Director of the Bible College. Since that time we have been involved in teaching and administering in the school, training young preachers and workers for the minsitry. More than 727 full-time servants of our Lord have graduated and gone out into His vineyard in full-time service to serve Him preaching and teaching the Gospel. Of the over 300 Independent Baptist Churches and Missions affiliated with the Baptist Bible Fellowship International in Mexico, the majority  are pastored by graduates from the Baptist Bible Institute of Ciudad Mante.
We are involved in evangelism, mission conferences, youth camps, VBS, the starting of new Churches and the training of full time students for the ministry in the Instituto Bíblico Bautista (Baptist Bible Institute). My wife, Sharon, and I teach a combined total of 16 or more hours per week at the Bible College, which includes: Eschatology, Profecy, Practice Preaching, Chior, Piano, Music Theory, Pedagogy, Child Study, Doctrine, General Epistles,  Bible History, Life of Christ and Life of Paul among others. New clases have been added.  Ministering to the Deaf which prepares those who wish to do so to start a deaf ministry and minister to the deaf. Missions Techniques is a class to prepare those who are called to the mission field. Also, special clases of music teaching varios instruments to use in the church music.
Besides the College, we are involved in laboring in and overseeing over 70 different Churches and Missions in the region. Last year the total global average attendance was over 4500 per week, with 4600 professions of faith and 900 baptized. Our goal is to continue planting more churches, train more servants for the ministry and strengthen the works already existing.